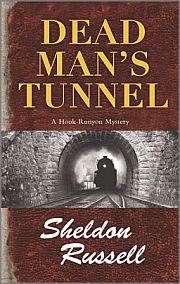 A Hook Runyon Mystery #3
April 1, 2015
Worldwide Library Worldwide Mystery
eBook
ISBN-13: 978-0373269419
$7.99 U.S.
FATAL TRACKS
Rail yard detective Hook Runyon has been reduced to rounding up copper thieves at the salvage yard when he's called to investigate a body found on the tracks. The dead man, a sergeant stationed in the remote but critical Johnson Canyon Rail Tunnel, was killed by an onrushing train. Wanting a quick resolution to avoid the chaos of a total railway shutdown, the government sends Lieutenant Allison Capron to help Hook with the case.
In spite of the sergeant's complicated personal life, Hook doesn't believe his death was a suicide or an accident. The truth is even more incredible. But uncovering a twisted track of lies and explosive scientific secrets could send the one-armed yard dog and Lieutenant Capron straight into death's path. Unless Hook can shed light on a killer at the end of the tunnel.
Originally published June 2012 in hardcover, trade paperback and eBook for Minotaur Books.
This edition can only be purchased through eHarlequin.
Can also be purchased in 06/12 Minotaur Books trade paperback or eBook formats for/from: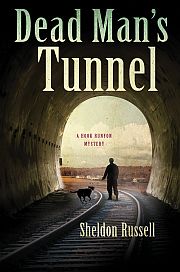 A Hook Runyon Mystery #3
June 19, 2012
St. Martin's Minotaur Books
Hardcover: 304 pages
ISBN-10: 1250001005
ISBN-13: 978-1250001009
$25.99 U.S. / $31.00 CAN.
Near the end of WWII, Hook Runyon, railroad bull, and his dog, Mixer, are sent to the West Salvage Yard in the high desert of Arizona. Not far away is the Johnson Canyon Tunnel. Though remote and ordinary as tunnels go, it is the gateway to the steepest railroad grade in North America and a potential bottleneck for the delivery of war supplies. So vital is this tunnel to the war effort that a twenty-four hour military guard has been assigned for the duration. Hook's orders are to catch copper thieves and to stay out of sight and out of trouble. But things go awry when Hook receives a call that one of the guards has been killed mid-tunnel by an oncoming train. Lieutenant Allison Capron from the Army Transportation Department is called in to help with the investigation. At first, suicide by train is suspected, but the evidence soon suggests homicide resulting from a love triangle. Unable to fit his own findings into either of these theories, Hook suspects something more sinister.
Read an excerpt
Publishers Weekly Starred Review
Can be purchased in trade paperback or eBook formats for/from: