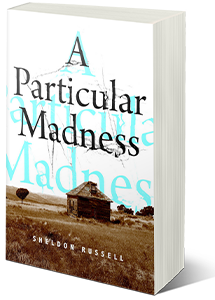 October 26, 2021
Cennan Books of Cynren Press
Hardcover | $22.00 U.S.
ISBN: 978-1-947976-26-9
A PARTICULAR MADNESS
On Sale Now!
Growing up in the rural impoverishment of post-Depression Oklahoma, and surrounded by feuding family factions, free-spirited Jacob Roland hungers for knowledge and a world beyond his reach.
But dark forces are growing in Jacob, twisting with the same ruthless, relentless power of a tornado across the Oklahoma prairies. Jacob battles against these aberrant forces, and, trapped by poverty and a growing mental illness, he is thwarted at every turn. For every light—a chance at college, the love of a poised, sophisticated woman—a greater darkness appears within him.
Failed by circumstance, community, and his own mental health, is there an escape for Jacob's bright, wounded spirit, or will he forever be a prisoner of a particular madness?

". . . a tragic but compelling novel about psychological illness and poverty in post-Depression Oklahoma." —Catherine Thureson, Foreword Reviews
Also available as an eBoook: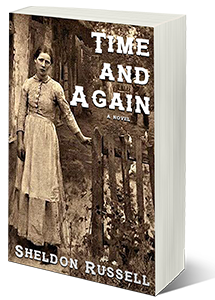 Milford House Press
Trade Paperback and digital
ISBN-10: 1620064642
ISBN: 1620064641
TIME AND AGAIN
Takes Reader into the Historic Cherokee Outlet
On Sale Now
First, there was the canyon. Then, there were the people who came.
Nod Blessing is the surviving heir of the Blessing Cattle Company, and he is making his way through the mysterious Cherokee Outlet. If he's going to transport his year's cash earnings, he'll have to survive the darkness of the caverns.
Five powerful women are also traversing the canyon. They are strong in their determination to build the town of Bathsheba, a refuge for women. Along the way, their spirits threaten to break; their wills tested. It's up to them to create their one true haven.
Marco wants the land. A surveyor accused of a crime he didn't commit must overcome the drought and the impact of the Great Depression and a world at war, but deception is hiding around every bend.
Will these characters succeed, or, in the end, will they fall to the power of the canyon and its secrets? Time and Again is a metaphysical Western revealing historical answers hidden in plain sight.

See the full cover flat
". . . called by the publisher 'a metaphysical Western 'revealing historical answers hidden in plain sight.' Indeed, its story arc and message affirm that while individual lives end, evidence of their time on earth remains." —K.M. Sandrick, Historical Novel Society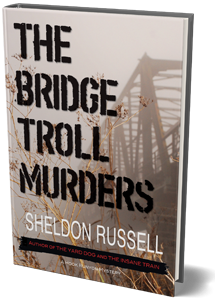 The Roadrunner Press
Hardcover and digital
ISBN: 978-1-937054-27-4
The Bridge Toll Murders
The Latest in the Acclaimed Hook Runyon Mystery Series:
They say a railroad is little more than a small town that stretches a thousand miles along a single winding iron thread. And as in any small town, gossip travels up and down the rail so fast it might as well be a telephone party line. So when a local boy turns up dead sixty miles down track under a bridge marked as a safe hobo camp, it quickly becomes Hook Runyon's job to find out what happened before it hits the headlines of the local newspapers. The rail yard bull is dealing with the constraints of a new office job and the presence of a young aspiring criminologist from Back East, a mixture ripe for all hell breaking loose.

Winner of the Oklahoma Book Award for Fiction


". . . excellent . . . Russell has created a fully realized protagonist: a man who loves to read fiction . . . has experienced hard times as a former hobo, and knows the value of kindness. The often witty dialogue and seamless narrative prose carry the reader along to a satisfying resolution." —STARRED REVIEW, Publishers Weekly
Can also be purchased in hardcover or ebook formats for/from: