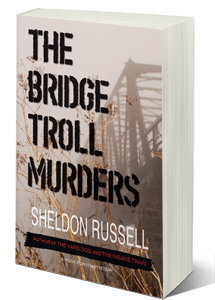 On Sale Now
The Roadrunner Press
Hardcover
ISBN: 978-1-937054-27-4






News
Bridge Troll Murders Makes 23rd Annual International Dublin Literary Award Longlist
Sheldon Russellís
The Bridge Troll Murders
has earned a nomination to the 2019 International Dublin Literary Award Longlist.
The award, which promotes excellence in world literature, is presented annually for a novel written in English or translated into English. Titles are nominated on the basis of "high literary merit" by participating library systems in major cities around the world.
The Bridge Troll Murders won the 2018 Oklahoma Book Award from the Oklahoma Center for the Book, an affiliate of the Library of Congressís Center for the Book.
The prize fund for the award is 100,000 pounds, and the shortlist and winner will be selected by an international panel of judges. The shortlist will be announced April 4, 2019, and the winner on June 12, 2019. The award is sponsored by Dublin City Council, the municipal government of Dublin, and administered by Dublin City Public Libraries. Nominations are submitted by library systems in major cities throughout the world. The award is now in its 23rd year. The Lord Mayor of Dublin is Patron of the Award.
The Dublin City Public Libraries hold a collection of all nominated titles for the award since its inception in 1996. For more information, visit http://www.dublinliteraryaward.ie/.


Long Awaited New Book Arrives in Acclaimed Hook Runyon Mystery Series
They say a railroad is little more than a small town that stretches a thousand miles along a single winding iron thread. And as in any small town, gossip travels up and down the rail so fast it might as well be a telephone party line. So when a local boy turns up dead sixty miles down track under a bridge marked as a safe hobo camp, it quickly becomes Hook Runyonís job to find out what happened before it hits the headlines of the local newspapers. The rail yard bull is dealing with the constraints of a new office job and the presence of a young aspiring criminologist from Back East, a mixture ripe for all hell breaking loose.
"Excellent . . . Russell has created a fully realized protagonist . . . The often witty dialogue and seamless narrative prose carry the reader along to the satisfying resolution." —Publishers Weekly ★ Starred Review