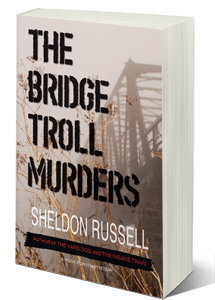 On Sale Now
The Roadrunner Press
Hardcover
ISBN: 978-1-937054-27-4





News
Russell to give free public lecture March 26 at Edmond University
Sheldon Russell, an award-winning author of nine novels, will give a lecture on his latest book, The Bridge Troll Murders, from 1 to 3 p.m. Monday, March 26 at the Nigh University Center at the University of Central Oklahoma in Edmond. The novel, the fifth in his acclaimed Hook Runyon Mystery Series, is set after World War II as men return from combat to uncertain futures, creating a stream of men riding the rails. The story teams Oklahoma railroad detective Hook Runyon with a Boston University graduate student in forensic science.
The Bridge Troll Murders is a finalist in fiction for the 2018 Oklahoma Book Awards.
The lecture is free and open to the public, and the author will sign books afterwards. Russellís book will be available for purchase.
It will be held in the Heritage Room 326 at the Nigh University Center. Parking is available east of the center.
The event is sponsored by the UCO College of Education and Professional Studies, UCO Emeritus Faculty Association, and Best of Books of Edmond.

The Long-Awaited New Book in the Acclaimed Hook Runyon Mystery Series:
They say a railroad is little more than a small town that stretches a thousand miles along a single winding iron thread. And as in any small town, gossip travels up and down the rail so fast it might as well be a telephone party line. So when a local boy turns up dead sixty miles down track under a bridge marked as a safe hobo camp, it quickly becomes Hook Runyonís job to find out what happened before it hits the headlines of the local newspapers. The rail yard bull is dealing with the constraints of a new office job and the presence of a young aspiring criminologist from Back East, a mixture ripe for all hell breaking loose.
"Excellent . . . Russell has created a fully realized protagonist . . . The often witty dialogue and seamless narrative prose carry the reader along to the satisfying resolution." —Publishers Weekly ★ Starred Review