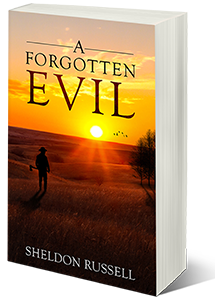 October 8, 2019
Cennan Books
Trade Paperback and digital
ISBN-10: 1947976133
ISBN: 978-1947976139


New Book Proves Value of Preserving Our Frontier History
News
A Forgotten Evil has won the 2020 Western Writers of America's prestigious Spur Award for Best Western Historical Novel.
Author to Speak at Oklahoma Genealogical Society in November
MALVERN, PA — Sheldon Russell, author of the award-winning Hook Runyon series, has written a a new historical fiction novel centering on the Battle of Washita River, one of the bloodiest battles of the Indian wars of the nineteenth century.

In A Forgotten Evil (Cennan Books of Cynren Press; October 2019), as the nation heals from the Civil War that nearly destroyed it, new battle lines are being drawn. Caleb Justin, orphaned and grieving, leaves his home along the Ohio River bound for Fort Leavenworth, Kansas, intent to join Sheridan's troops in their pursuit of Indian lands. But a badly healed foot injury ends Caleb's dream of joining up, and he finds himself alone and undefended on the war-ravaged prairie, picking up whatever work he can—until his capture by Indians changes everything.
In the winter of 1868, as the snow drifts, Custer is set to turn his cavalry on a Cheyenne camp along the Washita River. Joshua finds himself trapped in the crossfire of one of the bloodiest battles of frontier history.
Russell writes with the detail and historical precision made possible by the careful preservation of Kansas's frontier forts and other sites. Says Russell, "A Forgotten Evil is a period book, so it's incumbent on me to stay true to the times." Russell credits historical preservation for his ability to depict the life and times of the people who experienced the devastation of the Battle of Washita River. "My wife and I visited any number of historic forts in Kansas. I wanted a sense of what the daily life of soldiers was like during that time. Kansas has done a fantastic job of preserving these old forts." Russell's A Forgotten Evil proves the value of the well-researched historical fiction novel in placing history into the hands of the widest possible audience.